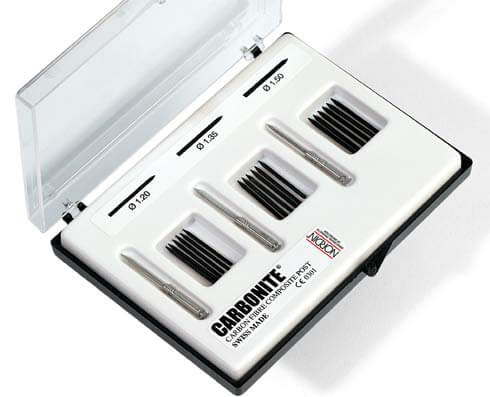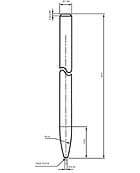 The Carbonite posts are available in 3 different selected diameters (the most used) and in a cylindrical shape with a gentle rounded cone ideal for the root-canal and exactly matched by the calibrated reamers.
The Carbonite posts are long (they are easily shortened) so you can always let the post go all the way to the top of your build-up and cut off the extra length when you trim the the build-up, thus ensuring maximum bond and strength to the reconstruction.
How to use this product:
[huge_it_slider id="5″]
Sizes and packaging

02-100
CARBONITE is supplied in a kit with18 posts and 3 reamers in sizes:
Nr 2 – ø 1.20
Nr 3 – ø 1.35
Nr 4 – ø 1.50


Reamers refill: individually.
Nr 1 – ø 1.00
Nr 2 – ø 1.20
Nr 3 – ø 1.35
Nr 4 – ø 1.50
Material & construction:

Carbon fibre as a braided plait in a multi-axial arrangement giving better resistance to bending and torsion forces than fibres in an ordinary axially parallel arrangement.
CARBONITE is also available in refills of 6 pcs each size.
Carbon fibre arrangement: braided plait
Braid: 12 bundles of 3K Rowing (30,000 filaments)
Diam. of filament: 6 microns
Carbon fibre type: HTA / HTS
Matrix: Epoxy resin with approx. 65% carbon fibre content

Litterature about this product