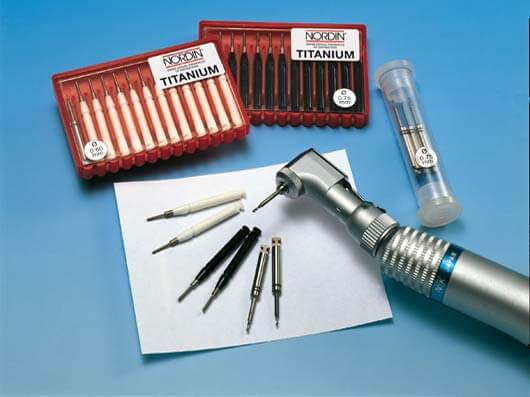 Non corrosive titanium
No stress
Soft-shearing
Self-centering
Smooth-cutting
Maximum retention
Cut from solid rod
Superior stability
Titanium is tissue compatible and has no corrosion or galvanic reaction associated with other metals.
These retention pins are not merely a threaded wire pushed into a shaft, but they are machined out of a solid rod of premium pure titanium with a Swiss watch precision cut thread, which is smooth-cutting and giving maximum of retention.They also have a self soft-shearing shaft, shearing without causing unnecessary stress to the dentine.
Part of the original solid rod of titanium is precision molded into the shank for greater stability. The Nordin Titanium Pins are also available in a blue Dental Brand packaging.
How to use this product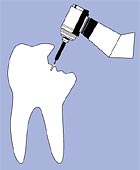 Drill hole in dentine where pin retention is desired avoiding closeness to pulp and outside of tooth.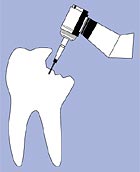 Insert shaft of pin in standard contra angle.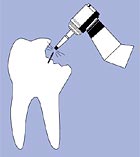 Put point of pin at appropriate R.P.M. to pre-drilled hole and pin will center into and penetrate to the bottom and automatically break off from shank

Pin can be bent with appropriate instruments if increased retention is desired
The retention pins are supplied in handy 12-packs with 1 drill, in diameters 0.75 mm (medium) or 0.60 mm (small), and in a bulk pack of 100 pcs + 4 drills, 0.75 mm or 0.60 mm.
Kit box:
12 pins + 1 drill
ø 0.60 mm or ø 0.75 mm.

06-001
Bulk pack:
100 pins + 4 drills
ø 0.60 mm or ø 0.75 mm.