Radiopaque, light transmitting fiber post & core system
Hyperboloidal shape for ultimate fit, absorption and distribution of stress.
No breakage point.
Easy access to root canal through core.
Minimal removal of dentine.
Optimal radiopacity (350-400%Al.)
Core and post structure are light conducting.
Elasticity close to natural dentine (20 Gpa)
•100% biocompatible-epoxy free
INT. PATENTS.
How to use his product

[huge_it_slider id="3″]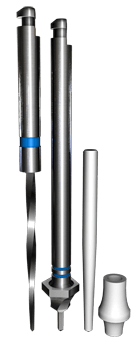 UNIC kit is available with 3*5 cores, 3*5 posts, 3*1 drills, 3*1 reamers
Sizes:
Core #1 : ø 3mm
Core #2 : ø 4mm
Core #3 : ø 5mm
Refills : 10 cores
Post #1 : ø 1.25mm-ø 0.8mm
Post #2 : ø 1.5 mm-ø 0.9mm
Post #3 : ø 1.8mm-ø 1.0 mm
Refills : 10 posts